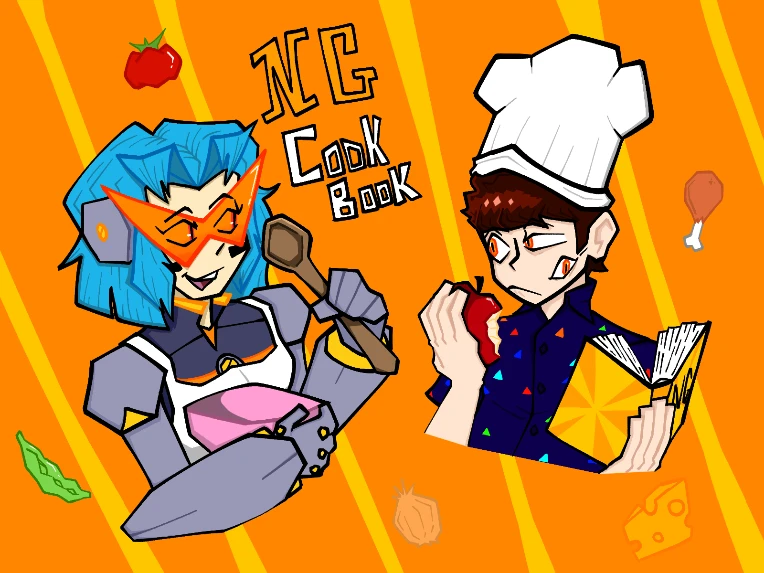 -Artwork by @CommanderKuni
Hey, everybody!
I'm proud to announce that @CommanderKuni and I are hosting a collaboration for a NG based cookbook!
If you are willing to participate then please get in contact with either Me or Kuni here on NG and we'll give you access to the Discord server where we are accepting recipe submissions and you might even learn a thing or two.
The cookbook's recipes can be put into one of two categories.
1: Community Recipes (A favorite recipe from a member of the NG community)
2: Fiction Recipes (Recipes inspired by a work of fiction here on NG, Madness, Pico's School, Dad 'n' Me, etc)
We will have sub categories for stuff like Breakfast, Lunch, Dinner, Dessert as well as both Alcoholic and Non-Alcoholic beverages.
The approved recipes will be put into a PDF file that will be accessible to everyone here on Newgrounds for FREE!
That's right! this is a free cookbook! For the Community, By the Community!
We do have some rules for this collaboration though if you want your recipe to be featured.
1. No joke submissions please


2. Don't state any brands or whatever for copyright safety, if you use anything like Kraft Mac or Campbell's sauce just say boxed max and cheese or canned tomato soup


3. You must provide Pictures of you making the recipe, or a prior time you've made it. You just have to be the one who took the picture


4. Follow the template listed below


RECIPE NAME
Series: [if you are making a recipe for or based off a series state it here]
Any allergens: [gluten, peanuts, etc.]
Spice level:
Difficulty: [how hard it is to make the dish]
Cook time:


Ingredients


Instructions


[leave your pictures below]
You can also add additional notes at the bottom of your recipe, whether it's a fond memory tied to the recipe (if it's a community recipe) or a small love letter directed to the work of fiction inspired by it (If it's a fiction recipe)
This cookbook is an unconventional love letter to the Community, by the Community. Food has always played a part in many communities and cultures and we wanna bring that to Newgrounds with something you guys can take away from it and learn new recipes from one another.
We hope to hear from you guys soon and that you'll love what we have cooking up when you dive into the endless handbag known as your imagination.
Justice and Tungsten!
-Redd.
Edit: WE'VE DECIDED TO EXTEND THE DEADLINE TO THE 22ND OF NOVEMBER, GET YOUR KNIVES READY FOLKS!!